____________________
Crossing Point
New series of
English-language poets
from all over the world,
surprising, eclectic.
_________________________________________________
Released
_________________________________________________
Ars Interpres Publications is very pleased to announce
the publication of Dipak Mazumdar's new book
Fluid Twilight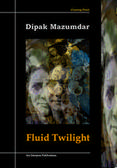 We are very pleased to announce that our book,
Fluid Twilight, has an official publication date,
February 17, 2008 and will be launched on Thursday,
February 21 at the Restaurant Dionysos
(Bondegatan 56), between 18.00 and 21.00

A Note about the Author
Born in the thirties in Bengal. Later moved to Kolkata where he stayed about
14 years. Published his first poem in a Delhi based magazine "Thought" in 1956.
Left for Europe in July 1956, came to London via Marseille and Paris. Lived,
worked, and studied both in France and England, one day drifted on to the
shores of Ultima Thule, arms of the Welfare State picked him up and nurtured
him. He worked as a teacher, taught English, French and even Spanish, became
respectable and responsible.
Poems have been published in India, England, Portugal (a collection of verse),
Denmark, Italy (on line), USA (on line) and in Sweden by Artes, Moderna Tider,
Dagens Nyheter, Lyrikvännen, Karavan, Passage and in a book of poems titled
"Världen in Sverige".
Published 4 volumes of verse, the latest one was in 2003, "I have peeled this orange before". It was a bilungal book of poems, ( translated into Swedish by Julian Birbrajer) the title in Swedish was "Den här apelsinen har jag skalat förut".
---
ORDERING INFORMATION
(If you ordering from outside of Sweden)
With questions regarding orders, shipping, and
discounts, please email Hedengrens Bokhandel
an international bookshop in Stockholm, Sweden
hedengrens@hedengrens.se
or visit Hedengrens Bokhandel web site:
http://www.hedengrens.se/bokfraga_en.html
Other payment option: Cash with registered mail.
(Euros, U.S. Dollars or Swedish Kronor - EUR, USD, SEK)
If you send cash by registered mail it should be enclosed
so it is not visible when the envelope is held to the light.
For orders, E-mail us at the address below. Please include
your name and shipping address. We'll let you know if the
issues are still available and we find out the shipping cost.
ars-interpres@nm.ru
Items purchased by cash will be shipped
when payment is received.
In Sweden:
Hedengrens Bokhandel
http://www.hedengrens.se
In USA
St. Mark's Bookshop
In Russia:


____________________
Book may be soon
purchased
on-line also at: