_________________________________________________
Released
_________________________________________________
Ars Interpres Publications is very pleased to announce
the publication of Daniel Weissbort's new book
The Name's Progress
translated into Russian by Regina Derieva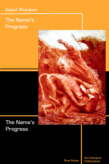 We are very pleased to announce that our book,
The Name's Progress, has an official publication date,
September 25, 2006 and will be launched on Sunday, October 8
at the Medelhavsmuseet (Mediterranean Museum).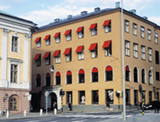 Daniel Weissbort was born in 1935 and educated in London and at Cambridge University. In 1965, with the late Ted Hughes, he founded the journal "Modern Poetry in Translation", which is now published by King's College, London University. He will shortly be retiring from the editorship. In the early Seventies he went to America where he directed the Translation Workshop and MFA Program in Translation at the University of Iowa for over thirty years. His anthologies of Russian poetry and of East European poetry are well known and he has also published many collections of his own poetry. An anthology of contemporary Russian women's poetry, co-edited with his wife, the Brodsky scholar Valentina Polukhina, will be published by the University of Iowa Press and Carcanet in 2004. Anvil is shortly publishing Weissbort's memoir of the late Joseph Brodsky, "From Russian with Love", and he is co-editing for Oxford University Press a historical reader in translation theory as well as writing a book on "Ted Hughes and Translation". He is or has been on various boards, including the Poetry International Committee (UK), the PEN American Center Translation Committee, the American Literary Translators Association Board, the Columbia University Translation Center Board, the Stephen Spender Memorial Trust, the British Centre for Literary Translation Board. Weissbort continues to write his own poetry, to lecture and occasionally to conduct workshops, as well as to translate poetry, mostly from Russian. He is Professor (Emeritus) English and Comparative Literature, University of Iowa, Research Fellow in the English Department, at King's College London University, and Honorary Professor in the Centre for Translation and Comparative Cultural Studies at the University of Warwick. His most recent collection of poetry is "Letters to Ted", poems addressed to Ted Hughes (Anvil Press, 2002).

Regina Derieva (1949) has published twenty books of poetry, essays, and prose. Her most recent book of poems in English translation,
Alien Matter: New and Selected Poems, was published in 2006 by New York based Spuyten Duyvil.
Her work has been or is being translated into many languages, including English, Swedish, Arabic, French, and Italian. A compact disc with her readings in Russian of selected poems was issued in 1999. Derieva's work has appeared in the Modern Poetry in Translation, Poetry East, Cross Currents, Ars Interpres, Salt, Projected Letters, Notre Dame Review as well as in many Russian magazines.
She has translated poetry by Thomas Merton and contemporary American, Australian, British, Polish, and Swedish poets. In 2003, Derieva has been awarded the Shannon Fellowship of the International Thomas Merton Society.
Regina currently lives in Sweden.
Her recent publications can be found at: www.derieva.com
ORDERING INFORMATION
(If you ordering from outside of Sweden)
With questions regarding orders, shipping, and
discounts, please email Hedengrens Bokhandel
an international bookshop in Stockholm, Sweden
hedengrens@hedengrens.se
or visit Hedengrens Bokhandel web site:
http://www.hedengrens.se/bokfraga_en.html
Other payment option: Cash with registered mail.
(Euros, U.S. Dollars or Swedish Kronor - EUR, USD, SEK)
If you send cash by registered mail it should be enclosed
so it is not visible when the envelope is held to the light.
For orders, E-mail us at the address below. Please include
your name and shipping address. We'll let you know if the
issues are still available and we find out the shipping cost.
ars-interpres@nm.ru
Items purchased by cash will be shipped
when payment is received.
In Sweden:
Hedengrens Bokhandel
http://www.hedengrens.se
In USA
St. Mark's Bookshop
In Russia: