____________________
Scandinavian
Wind Rose
Swedish poets in English
translation, winds from
several directions,
deep-rooted center on the
northern edge of Europe.
_________________________________________________
Released
_________________________________________________
Ars Interpres Publications is very pleased to announce
the publication of Malte Persson's new book
Darkroom Suns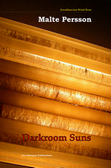 We are very pleased to announce that our book,
Darkroom Suns, will be launched on Thursday,
April 2 at S:t Eugenia's Catholic parish situated at
(Kungsträdgården 12), between 19.00 and 20.30

A Note about the Author
Malte Persson, poet, translator, and a literary critic, was born in in 1976.
He is the author of several collections of poetry and translation, including
Apolloprojektet - The Apollo Project and Dikter - Poems (both by Albert
Bonniers Förlag, 2004 and 2007). He is also the author of a novel Livet på
den här planeten - Life on this Planet (Albert Bonniers Förlag, 2002) and
most recently Edelcrantz Förbindelser (Albert Bonniers Förlag, 2008).
As a literary critic, he regularily writes for the Swedish daily newspapers
Expressen and Göteborgs-Posten. Malte Persson has arranged the World
Poetry Day festival in Stockholm.
---
ORDERING INFORMATION
(If you ordering from outside of Sweden)
With questions regarding orders, shipping, and
discounts, please email Hedengrens Bokhandel
an international bookshop in Stockholm, Sweden
hedengrens@hedengrens.se
or visit Hedengrens Bokhandel web site:
http://www.hedengrens.se/bokfraga_en.html
Other payment option: Cash with registered mail.
(Euros, U.S. Dollars or Swedish Kronor - EUR, USD, SEK)
If you send cash by registered mail it should be enclosed
so it is not visible when the envelope is held to the light.
For orders, E-mail us at the address below. Please include
your name and shipping address. We'll let you know if the
issues are still available and we find out the shipping cost.
ars-interpres@nm.ru
Items purchased by cash will be shipped
when payment is received.
In Sweden:
Hedengrens Bokhandel
http://www.hedengrens.se
In USA
St. Mark's Bookshop
In Russia:


____________________
Book may be soon
purchased
on-line also at: