_________________________________________________
Released
_________________________________________________
Ars Interpres Publications is very pleased to announce
the publication of Per Wästberg's new book
Determination of Place
translated into English by Hildred Crill
and into Russian by Regina Derieva
and Alexei Prokopiev.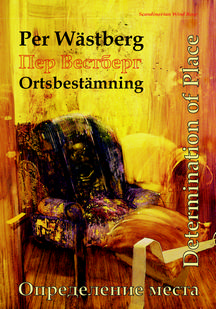 We are very pleased to announce that our book,
Determination of Place, will be launched
on Wednesday, November 5
at St Eugenia's Läsesalen situated at Kungsträdgården 12.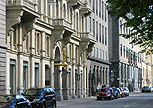 Per Wästberg was born in Stockholm in 1933. He received his Bachelor of Arts
(comparative literature) from Harvard University in 1955 and PhD from Uppsala
University in 1962; with a thesis on the African novel, 1945-60. He has been
a critic and columnist at Dagens Nyheter, Sweden's main daily, since 1953.
From 1976-82, he was Chief Editor of the same paper.
He is Vice President of International PEN, and was President of Swedish PEN,
1967-78. He founded the Swedish Amnesty in 1963. He has been a member of the
European Academy of Arts & Sciences since 1980 and became member of The
Swedish Academy, chair no. 12, in 1997. He has been a member of the Nobel
Committee for Literature since 1998.
His encounter with oppression and racism in Africa and the Third World is
documented in Forbidden Territory (Förbjudet område), 1960, followed by
On the Black List (På svarta listan), reportage, journal and political analysis on
Rhodesia (Zimbabwe) and South Africa. The books were printed in altogether
one million copies in nine languages. It led to the author being prohibited from
entering Rhodesia until its independence in 1980 and from South Africa until
Nelson Mandela's release in 1990.
Per Wästberg has published fifty books, novels, poetry and non-fiction.

Hildred Crill's poems have appeared in Poetry, Colorado Review, Poet Lore,
Kalliope, The Literary Review and other journals. In 2004 she completed the
MFA program in poetry at New England College.
She currently lives in Stockholm.
Alexei Prokopiev is a poet and translator of German, English and Swedish
poetry. He translated most of the poems included in the recent bilingual edition
of Tomas Tranströmer Selected. Alexei Prokopiev teaches a translation seminar
at The Gorky Literary Institute in Moscow.
Regina Derieva (1949) has published 20 books of poetry, essays, and prose.
Her work has been or is being translated into many languages, including English,
Swedish, Arabic, French, and Italian. Derieva's work has appeared in Poetry,
Quadrant, MPT, Poetry East, Salt, The Liberal, Notre Dame Review as well as
in many Russian magazines. Regina currently lives in Sweden.
Her recent publications can be found at: www.derieva.com
ORDERING INFORMATION
(If you ordering from outside of Sweden)
With questions regarding orders, shipping, and
discounts, please email Hedengrens Bokhandel
an international bookshop in Stockholm, Sweden
hedengrens@hedengrens.se
or visit Hedengrens Bokhandel web site:
http://www.hedengrens.se/bokfraga_en.html
Other payment option: Cash with registered mail.
(Euros, U.S. Dollars or Swedish Kronor - EUR, USD, SEK)
If you send cash by registered mail it should be enclosed
so it is not visible when the envelope is held to the light.
For orders, E-mail us at the address below. Please include
your name and shipping address. We'll let you know if the
issues are still available and we find out the shipping cost.
ars-interpres@nm.ru
Items purchased by cash will be shipped
when payment is received.
In Sweden:
Hedengrens Bokhandel
http://www.hedengrens.se
In USA
St. Mark's Bookshop
In Russia: