____________________
New Series
_________________________________________________
Released
_________________________________________________
Ars Interpres Publications is very pleased to announce
the publication of Susan Bullock's new book
Selected Poems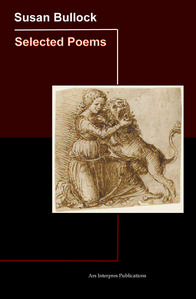 'In this book Susan Bullock shows that she is remarkably talented, in
eloquent poems that pursue their themes so intently and with such gathering
power, as in the impressive "Roman" and "Venetian" series in this book, and
in "The Russian Poems" and the "Patmos" series as well. The poems are
marked by intensity of feeling disciplined by, and made more expressively
intense by, her strong sense of the formal integrity of the verse line.'
David Ferry

A Note about the Author
Susan Bullock was born in Somerville, New Jersey, and attended Wellesley College. In 1981 she went to Europe on a Thomas Watson Fellowship, and then returned to the United States where she studied with Joseph Brodsky. Her poems have appeared in Persephone, Harvard Review, Princeton Theological Review, English, Ars Interpres, Stand, and Literary Imagination. She resides in Boston, Massachusetts.
---
ORDERING INFORMATION
(If you ordering from outside of Sweden)
With questions regarding orders, shipping, and
discounts, please email Hedengrens Bokhandel
an international bookshop in Stockholm, Sweden
hedengrens@hedengrens.se
or visit Hedengrens Bokhandel web site:
http://www.hedengrens.se/bokfraga_en.html
Other payment option: Cash with registered mail.
(Euros, U.S. Dollars or Swedish Kronor - EUR, USD, SEK)
If you send cash by registered mail it should be enclosed
so it is not visible when the envelope is held to the light.
For orders, E-mail us at the address below. Please include
your name and shipping address. We'll let you know if the
issues are still available and we find out the shipping cost.
ars-interpres@nm.ru
Items purchased by cash will be shipped
when payment is received.
In Sweden:
Hedengrens Bokhandel
http://www.hedengrens.se
In USA
St. Mark's Bookshop
In Russia:


____________________
Book may be soon
purchased
on-line also at: